Eudora Welty House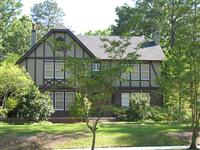 The Eudora Welty House in Jackson, Mississippi. © Natalie Maynor
One of America's most influential writers, Eudora Welty lived for 76 years at 1119 Pinehurst Plaza in Jackson, before bequeathing the house to the State of Mississippi when she passed away in 2001. The beautiful, Tudor Revival-style house was built by Welty's parents in 1925, and has since been added to the National Register of Historic Places and declared a National Historic Landmark. Significantly, the interior of the house has remained untouched; and visitors to the Eudora Welty house will be given the chance to see exactly how this Pulitzer Prize-winning author lived and worked - her books still line the shelves, and her typewriter still sits on the writing desk by the window in the upstairs bedroom. Included in the tour, is a walk around the exquisite gardens that Welty and her mother cultivated over the years. For fans of American literature, a visit to the Eudora Welty house-cum-museum is an absolute must.
Address: 1119 Pinehurst Plaza, Jackson
Website: mdah.state.ms.us/welty
Admission: $5 adults, $3 students. Tours are free on the 13th day of each month.