National World War I Museum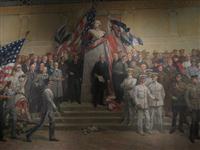 The National World War I Museum in Kansas City is America's official museum dedicated to the Great War. Housed within the Liberty Memorial, its state-of-the-art facilities provide visitors with the chance to explore the nation's most extensive assembly of WWI artefacts, photography, art and narratives ever brought together in a single collection. The museum's mission is to inspire thought, dialogue and learning, in order to make the experiences of the World War I era meaningful and relevant to present and future generations. Visitors enter the museum across a glass bridge above a field of 9,000 poppies (each one representing 1,000 war combatant deaths), and inside, the museum boasts two theatres, exhibitions with period artefacts (including a tank, uniforms, guns, maps, and photographs of major forces) in cutting edge interactive displays, an enormous research centre and a library. In the face of a barrage of fascinating audio-visual stimulation, visitors to the National World War I Museum are sure to leave having had an unforgettable experience.
Address: 100 West 26th Street, Kansas City
Website: www.theworldwar.org
Telephone: (816) 784-1918
Opening times: January 2 to May 29: Tuesday to Sunday 10am-5pm. May 30 to September 5: daily 10am-5pm. September 6 to December 31 Tuesday to Sunday 10am-5pm.
Admission: $12 adults, $6 youths 6-17. Other concessions available.