Greenwich Village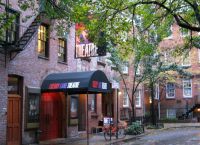 Greenwich Village © GK tramrunner
Affectionately known as 'The Village', Greenwich Village began life as an industrial park. It is now been taken over by artists, poets, beatniks, radicals, and other bohemians that founded a vibrant arts community.
Because of gentrification, the rents in the area are sky high. People will see more yuppies than regular folk. Greenwich Village is home to New York University, the famous Washington Square Park, and is also the setting for the iconic sitcom Friends.
The district has retained a bit of artistic flair throughout, containing a number of great off-Broadway theatres as well as historic jazz and rock venues like Bitter End, Village Vanguard, Small's, and the Blue Note. Additionally, there's an eclectic mix of international restaurants and cafes.
Address: Lower Manhattan