Palais des Papes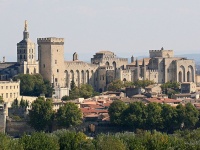 Towering over Avignon the imposing Palais des Papes (Palace of the Popes) is the symbol of the city's medieval power. The palace consists of the ascetic Old Palace, commissioned by Benedict XII, and the extravagant Gothic New Palace of Clement VI. It was built primarily as a fortress with massive outer walls, battlements and sluices for pouring hot oil onto attackers. Inside the palace, so little remains of the original interior that visitors could be mislead into believing that all the popes and their entourage were as virtuous as the last official occupant, Benedict XIII. In reality, the interior was once elaborately decorated, displaying the decadence of the feuding cardinals and their mistresses. The fire of 1413 destroyed most of the decoration and furnishings, but evidence of the once magnificent interior does remain and includes some frescoes, one of which was painted by Italian artist Matteo Giovannetti. Visitors can take a fascinating tour of the palace and see the Pope's Bedchamber, the Chapelle St-Martial and the Stag Room. Nearby, dwarfed by the palace, is the 12th century Cathédrale Notre-Dame des Doms.
Address: Place du Palais, 6 Rue Pente Rapide
E-mail: rmg@palais-des-papes.com
Website: www.palais-des-papes.com
Telephone: (04) 9027 5000
Opening times: Open daily. 1 September to 1 November: 9am to 7pm. 2 November to 29 February: 9.30am to 5.45pm. March: 9am to 6.30pm. April to June: 9am to 7pm. July: 9am to 8pm. August: 9am to 8.30pm.
Admission: Pope's Palace: €10,50 (full price); €8,50 (concessions). Guided tours available for extra cost.