Wall Street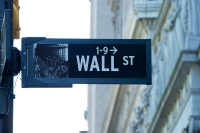 Wall Street, NYC © Vlad Lazarenko
Home to the New York Stock Exchange, Wall Street has attained near-mythical status as the financial heart of the USA. The narrow street runs from Broadway to the East River and is home to landmarks like Federal Hall, where George Washington was inaugurated as the first president.
23 Wall Street still has shrapnel holes in its limestone façade from the 1920 Wall Street Bombing. Perhaps the most iconic symbols of Wall Street is the Wall Street Bull. A 7,100 pound (3,200kg) bronze sculpture by Arturo Di Modica.
The sculpture is a popular photo opportunity in New York, symbolising financial optimism and prosperity. Referred to as the 'Charging Bull', it is set in Bowling Green Park. The installation of Fearless Girl, a small statue of a girl facing the beast adds another layer of artistic intrigue.