Cite De L'espace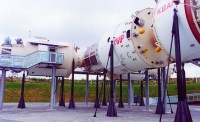 This theme park in Toulouse has its head firmly in the clouds, dedicating its 8.6 acres (3.5 hectares) to celebrating flight and outer space. Children will love exploring full-scale models of rockets and space stations, and teens will enjoy the feeling of anti-gravity in the Gyro simulator. There's a moon-walk simulator; and the enormous planetarium, IMAX theatre, and Terradome show educational films about space flight and the history of the universe. The park is located on the outskirts of the city, and is a great activity for the whole family. You will need a full day to explore the whole site and there are guided tours and audio guides available. There is a restaurant at the park, and a shop which sells a variety of fun, educational books, movies and toys.
Address: Avenue Jean Gonord
E-mail: standard@cite-espace.com
Website: www.cite-espace.com
Telephone: 0 820 377 223
Opening times: Opening hours vary according to season but they usually open at 9.30am and close between 5pm and 11pm depending on the day. Check the website for specific dates and times.
Admission: 31 January to 30 June: €19,50 (adults), €14 (kids). 1 July to 31 August: €23 (adults), €16,50 (kids). 1 September to 6 January: €20,50 (adults), €15 (kids). Prices are liable to change every year.