St Sernin Basilica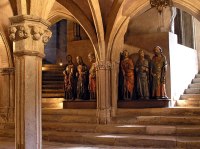 Of the many beautiful buildings in Toulouse, the St Sernin Basilica is one that should not be missed. The church, built from the area's distinctive rose-coloured bricks, is the largest Romanesque church in Europe and contains many beautiful frescoes and sculptures. The Basilica was built around 1100, and contains many relics, as well as the graves of Saint Saturnin and Saint Honoratus. Saint Sernin was the first Bishop of Toulouse and was martyred in the year 250; it is largely due to his remains in the crypt that the basilica is an essential stop on the pilgrimage of Saint Jacques de Compostela which culminates in Arles. There are also some nineteenth century treasures on display for visitors, including chalices and ciborium. The main attraction, however, is the building itself which is astounding in its size and design and quite unlike most churches to be found in France. The mix of architectural styles from different centuries is what makes it feel so original. There are free guided tours of the basilica on weekends but they are conducted in French only. Although entrance to the main area of the church is free, you will have to pay small amounts to enter other, special areas; it is definitely worth doing so.
Address: Place Saint-Sernin
Website: www.basilique-st-sernin-toulouse.fr
Telephone: (05) 61 21 7018
Opening times: July to September: Monday to Saturday 8:30am-4:15pm, Sunday 8:30am-7:30pm (Nave and Transept); Monday to Friday 10am-6pm, Sunday 11:30am-6pm (Apse and Crypt). October to June: Monday to Saturday 8:30am-11:30am and 2pm-5:45pm, Sunday 2:30pm-5pm (Nave and Transept); Monday to Friday 10am-11:30am and 2:30pm-6pm, Sunday 2:30pm-5pm (Apse and Crypt). Opening times are complex and this is a rough guide only, see website for details.
Admission: Free.