Eugene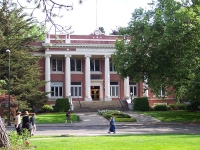 University of Oregon, Eugene © Adam850
As one would expect from a city with a memorial statue of the 'Merry Prankster' Ken Kesey, Eugene is an offbeat place. It has students from Oregon University a well as people seeking out alternative lifestyles, from old school hippies to new age hipsters.
Despite its modest size, Eugene has a thriving arts community. There are also lots of outdoor sports opportunities available to visitors, with running, cycling, white-water rafting, and kayaking proving especially popular.
There are plenty of art museums in Eugene, and the region is also famous for its wineries. Some of them are just a short scenic drive away. Visitors are strongly encouraged to walk the streets of the city and to chat to some of the locals before enjoying the vibrant nightlife that's on offer.
Website: www.eugene-or.gov