Eugene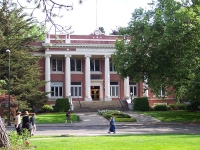 University of Oregon, Eugene © Adam850
As you would expect from a city with a memorial statue of 'Merry Prankster' Ken Kesey in its downtown area, Eugene is an offbeat place, full of people - from old-school hippies to new-age hipsters - seeking out alternative lifestyles. Home to the University of Oregon, and once proudly calling itself the 'World's Greatest City for the Arts and Outdoors', Eugene has since toned down that claim, and is now simply known as a 'Great City for the Arts and Outdoors'. Despite its modest size (about 140,000 permanent residents), Eugene does indeed have a thriving arts community, and lots of outdoor sports opportunities are available to visitors, with running, cycling, white-water rafting and kayaking especially popular.
Eugene is also home to an eclectic assortment of self-proclaimed political activists, from your run-of-the-mill 'green-niks' to your 'anarcho-primitivists', and no matter what one ends up actually doing in Eugene, visitors are sure to have a great time in what is surely one of the most self-consciously progressive cities in America.
There are plenty of art museums to be visited in Eugene, and the region is also famous for its wineries (some of them, just a short but scenic drive away). Visitors are strongly encouraged to walk the streets of the city and to chat to some of the uniformly-interesting locals before enjoying the vibrant nightlife that's on offer.
Website: www.eugene-or.gov