Hoyt Arboretum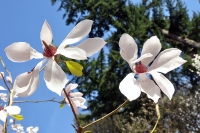 Hoyt Arboretum, Portland © Sean Fornelli
The Hoyt Arboretum is home to an outstanding collection of rare and exotic tree species. Located within Washington Park and about two miles west of downtown Portland, the 187-acre arboretum is nothing less than a living laboratory.
It boasts more than 10,000 individual trees and shrubs, from more than 1,100 different species. These include a few specimens of Dawn Redwood, a tree thought for many years to be extinct. The trees are arranged by taxonomy and geography, making them easy to identify.
The arboretum consists of 12 miles (19km) of walking trails, a visitor's centre that is open six days a week, an enormous picnic shelter, and a meadow. Guided tours are available Saturdays between June and September, for a small fee. Visitors of all ages will enjoy spending time in this urban oasis on the banks of the Willamette River.
Website: www.hoytarboretum.org