National Museum of American Illustration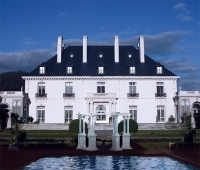 National Museum of American Illustration © Erikb02809
Established in 1998, the National Museum of American Illustration is devoted exclusively to American illustration artwork. The museum is housed in the beautiful mansion of Vernon Court, with its Gilded Age architectural style synonymous with the Golden Age of American illustration.
The museum's American Imagist Collection exhibits work by Normal Rockwell, James Montgomery Flagg, Maxfield Parrish, and more. The impact of these illustrators on subsequent American artists cannot be underestimated.
Working in the days before television, their art circulated in all major print publications. It was not only the primary medium through which members of the American public were exposed to images beyond their everyday lives, it also created a host of iconic characters.
These characters have formed an integral part of the American aesthetic ever since, such as the iconic Uncle Sam. Don't miss out on this opportunity to appreciate some of the art that was essential to the birth of modern American culture as we know it.
Website: www.americanillustration.org