Please Touch Museum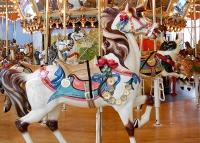 Dentzel Carousel © Smallbones
The Please Touch Museum is located in Memorial Hall in Fairmount Park and is a shining example of what must be one of the rarest cultural attractions anywhere in the world: a museum where children are actually encouraged to lay their hands on exhibits.
Mainly aimed at kids aged seven years and younger, the museum seeks to educate and entrance its young visitors in equal measure, offering them a hands-on experience of an assortment of life-size interactive exhibition zones.
Although the exhibits change frequently, highlights have included an Alice in Wonderland area complete with rabbit holes and garden mazes, a miniature supermarket, and a scaled down SEPTA bus display.
Parents and grandparents are undivided in their approval of the museum and its child-friendly approach, describing it as an ideal way to spend a day out with the kids. The museum also offers a delicious selection of wholesome food and drinks.
Address: 4231 Avenue of the Republic (formerly North Concourse Drive)
Website: www.pleasetouchmuseum.org