Petit Palais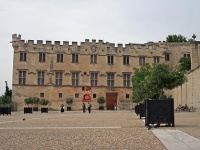 Just below the Palais des Papes, the Petit Palais contains a wonderful collection of 13th to 15th century paintings and sculptures. Although there are interesting examples of art from the region, much of the collection consists of the work of Italian masters from that era and, as you progress through the 19 rooms, you can observe how they wrestled with and finally conquered the representation of perspective; in medieval art the size of figures depended on their importance rather than position so this was a revolution in art. The highlights of the collection are Botticelli's sublime Virgin and Child and The Angel of the Annunciation by Sano Di Pietro. There are also a plenitude of beautiful Christian icons in the collection. It is a small museum and information in English is minimal so if you are interested in the art it is best to buy a brochure or guidebook to get context. Although it has a lot to offer enthusiasts this museum is not a must-see for those who are indifferent to art history.
Address: Place du Palais
E-mail: musee.petitpalais@wanadoo.fr
Website: www.petitpalais.paris.fr
Telephone: (0)1 5343 4000
Opening times: Tuesday to Sunday 10am to 6pm. Temporary exhibitions open till 8pm on Thursdays. Closed Mondays and public holidays.
Admission: Free for permanent collection; temporary exhibitions vary in cost.