PNC Park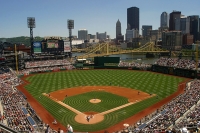 PNC Park © alpineinc
Since its opening in 2001, PNC Park has awed all those who've entered it. Consistently voted in the top three of all baseball stadia in America, PNC Park is a breath-taking example of how sports stadium architecture can be both artful and spectator-friendly.
With a capacity of just under 40,000, it is a relatively small stadium. But even the cheap seats command perfect views of the playing diamond. Beyond the bleachers, views of the river, the Roberto Clemente Bridge, Pittsburgh's skyline, and towering Mount Washington catch the eye.
While daytime tours of the stadium are thoroughly rewarding, visitors to Pittsburgh should do their best to attend a Pirates game. A magical atmosphere bubbles inside PNC Park as evening descends, the city lights starting to sparkle in the distance.