Fallingwater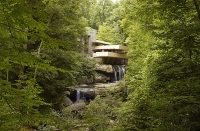 Fallingwater, Pittsburgh © Carol M. Highsmith
Just 60 miles (about 95km) southeast of Pittsburgh on Interstate 76, Fallingwater is a must-see attraction for visitors to the area. Designed by Frank Lloyd Wright in 1935 for retail giant Edgar J. Kaufman, the house sits among the waterfalls and woods of the beautiful Bear Run Nature Reserve.
It remains arguably the world's best example of organic architecture. A wondrous achievement, Wright managed to design a fully functioning personal residence that blends fluidly and harmoniously with its natural setting.
The sound of rushing water is a constant, a whispering presence within the house. A boulder juts out into the living room and doubles as a hearth, while the windows open outward from the corners of the walls and leave no panes to obstruct the natural view.
This triumphant feat of individualistic artistic expression so inspired Ayn Rand that she largely based her novel The Fountainhead on the ingenuous creation. Fallingwater is included in the Smithsonian magazine's list of '28 places to see before you die' and visitors to Pennsylvania shouldn't pass up the opportunity. Make sure to book well in advance.
Website: www.fallingwater.org