Cedar Point Amusement Park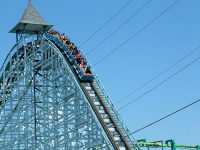 Cedar Point Amusement Park © Stratosphere
Cedar Point Amusement Park, located in Sandusky Ohio just outside of Cleveland, is a paradise for roller coaster lovers. Named 'Best Amusement Park in the World' many times over, it is the only park to have four roller coasters taller than 200 feet (61m), and the only amusement park of its size within hundreds of miles.
If those are too much, though, there are 13 others to choose from, along with dozens of other rides and attractions for all ages. Cedar Point also boasts and indoor and outdoor waterpark, white sand beach, two marinas, and Challenge Park, which offers go-karts and miniature golf as well as several thrill rides. One of the oldest theme parks in the US, Cedar Point has been operating since 1870.
Address: Cedar Point, Sandusky
Website: www.cedarpoint.com
Telephone: (419) 627-2350
Transport: Approximately 55 miles (88km) from Cleveland by car.
Opening times: Open May to October. General hours 10am-10pm, however hours and dates vary according to season. Check the website for specific times.
Admission: $58.99 adults, $45 children under 48 inches (122cm). Discounted tickets available from the website.