Progressive Field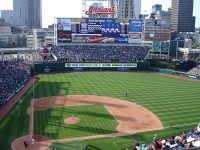 Progressive Field © Jsawczuk
Home to the Cleveland Indians baseball team, Progressive Field is a beautiful outdoor stadium in downtown Cleveland. Voted the best major league ballpark by Sports Illustrated, formerly known as Jacobs Field. Catching an Indians game is a great way to spend a warm summer evening in Cleveland, and true fanatics can take a tour of the stadium between May and September.
Address: 2401 Ontario Street
Website: cleveland.indians.mlb.com/cle/ballpark/index.jsp
Admission: Tickets range $8-85, depending on section and game. Tours are $7.50 adults, $5.50 children.