Mount Vernon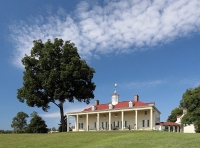 Mount Vernon Estate, Mansion © Martin Falbisoner
One of Virginia's most popular tourist attractions and the highlight of any historical Virginia tour, is the colonial estate of George Washington, Mount Vernon. The plantation has been restored to look just as it did during Washington's era, having been purchased by the Mount Vernon Ladies' Association in 1858 and kept as a historic monument ever since. Consisting of 500 acres (202 ha) situated on the Potomac River, the gardens, mansion, and other buildings are open to the public, where costumed employees demonstrate life in the 18th century. Visitors can even tour Washington's Tomb, which holds ceremonial wreath-layings at 10am and 2pm.
In 2007, Mount Vernon was given permission to reopen Washington's distillery, which now produces its own whiskey, available only at the Mount Vernon Gift Shop. The estate offers tours of the mansion and grounds, sightseeing cruises on the Potomac River, and special tours showing scenes from the movie National Treasure 2: Book of Secrets. Mount Vernon is a popular excursion from Washington DC, and draws more than one million visitors each year.
Address: 3200 Mount Vernon Memorial Highway, Mount Vernon
E-mail: tickets@mountvernon.org
Website: www.mountvernon.org
Telephone: (701) 780 2000
Admission: $20 adults, $12 children, other concessions apply.