Ford's Theatre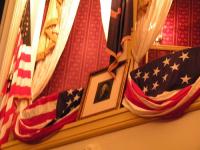 Ford\'s Theatre © ttarasiuk
On April 14th, 1865, President Abraham Lincoln was assassinated while watching a performance at Ford's Theatre in Washington, DC. His killer, an actor named John Wilkes Booth who sympathised with the Confederates in the ongoing Civil War, then jumped to the stage and shouted "Sic simper tyrannis" (Thus to all tyrants) before fleeing the theatre. The US Government bought the theatre and prohibited it from use as an amusement venue. It was used for various storage and clerical purposes until it was restored and reopened for performances in 1968. Today, Ford's Theatre is both an active performance venue and historical site, and the Ford's Theatre Museum contains artefacts related to the assassination, including the Derringer pistol Booth used. Across from the theatre is the Petersen House, which is where President Lincoln finally died early the next morning.
Address: 10th Street NW
Website: www.fordstheatre.org
Telephone: (202) 426-6924
Opening times: Opening times vary day to day - check the website for details.
Admission: Ticket prices vary for tours and performances.