Washington National Cathedral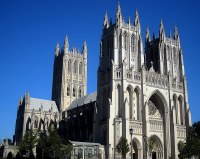 Washington National Cathedral © Agnostic Preacher's Kid
One of the largest cathedrals in the US, the Washington National Cathedral, also known as the Cathedral Church of Saint Peter and Saint Paul, is a magnificent Neogothic structure standing 301 feet (91m) tall. The interior of the cathedral is just as grand, with the long, narrow sanctuary framed by buttresses, chancels, transepts, and beautiful stained glass windows. The most famous of these is the Space Window, which contains a piece of moon rock brought back by Neil Armstrong from the Apollo 11 mission. The cathedral was finished in 1972, making it relatively young compared to most cathedrals of its stature. It is the final resting place of noted figures such as Helen Keller, President Woodrow Wilson and his wife, and Admiral George Dewey.
Address: 3101 Wisconsin Avenue NW
E-mail: info@cathedral.org
Website: www.nationalcathedral.org
Telephone: (202) 537 6200
Opening times: Visiting hours vary depending on the day and the planned church services - check the official website for details. Guided tours are conducted at 10.15am Monday to Saturday and at 1pm on Sunday.
Admission: $12 adults, $8 children aged 5 - 17. Visits for worship, prayer, or religious services are free.