Tracy Aviary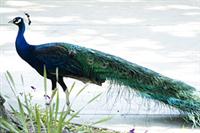 Peacock at Tracy Aviary © Emily Allen
Situated on eight acres of land in Liberty Park, the Tracy Aviary, founded in 1938, is the oldest bird sanctuary in the United States. The space is a wonderful 'urban oasis' among the hustle and bustle of downtown Salt Lake City. Home to more than 400 well cared-for birds, with 135 species, including bald eagles, flamingos and hawks, the aviary is popular with visitors of all ages, bird-lovers or not.
With daily shows, including flight demonstrations given by professional handlers, pelican feeding, and a special showcase featuring iridescent little birds of the Amazon basin, it is not hard to see why the Tracy Aviary is consistently voted one of Salt Lake City's premier tourist attractions. Some of the permanent displays are Destination Argentina, the Kennecott Wetland Immersion Experience, the Southern Ground Hornbill Exhibit, and the Owl Forest. Visitors can get up close and personal with the birds through free-flight encounters, feeding, keeper talks and pelican encounters. The aviary is a big supporter and promoter of conservation, and offers opportunities to teach visitors and to contribute to conservation efforts.
Address: 589 East 1300 South
E-mail: info@tracyaviary.org
Website: www.tracyaviary.org
Telephone: (801) 596 8500
Opening times: Daily 9am-5pm.
Admission: $12 adults, $8, other concessions available.