Mill Iron Ranch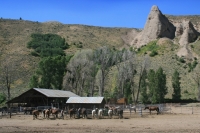 Mill Iron Ranch © woodleywonde
What good's a visit to Cowboy Country without a little trail riding thrown into the mix? At Mill Iron Ranch, the Wheeldon family, led by the charismatic cowboy-proprietor, Chancy, boldly claim to 'run the best huntin', fishin', ridin' and eatin' outfit in [Jackson]'; and the scores of glowing Internet reviews of the ranch, suggest that they might just be telling the truth about that.
Offering the 'number one two-hour trail ride in the USA', at the end of which, visitors can return to the farmhouse for a bit of western swing dancing, and a steak dinner 'with all the fixings', prepared by the Wheeldons themselves. Visitors to Wyoming who are keen to experience a little ranch-life, could hardly do better than making a trip out to Mill Iron Ranch. Keen riders can also sign up for longer journeys, including a four-hour mountain trail ride, or full day trips that include fishing in Willow Creek. Longer trips are available by arrangement.
The ranch also offers fun winter activities like sleigh rides, and can arrange hunting trips for big game like moose, deer, elk, and bear.
Address: 3495 East Horse Creek Road, Jackson
E-mail: kimmillironranch@gmail.com
Website: www.millironranch.net
Telephone: 307 733 6390
Admission: $80 per person for 2 hour trail ride, $140 per person for 4 hour trail ride.