Estadio Centenario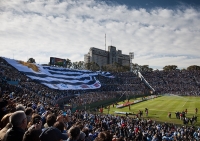 Estadio Centenario © Jimmy Baikovicius
Built between 1929 and 1930, the Estadio Centenario commemorates the centenary of Uruguay's first constitution. It also hosted the first-ever FIFA World Cup final, in which Uruguay beat Argentina by four goals to two.
Listed by FIFA as one of the world's Classic Stadiums, the Estadio Centenario has become a bucket-list item for many football fans. Indeed, thousands of tourists visit every year, either to attend a match, or to enjoy the fascinating Museo del Fútbol (Football Museum) housed within the stadium itself.
Visitors should do everything they can to attend an Atlético Peñarol home fixture. Football, as the saying goes, is a way of life in Uruguay, and watching a game with 90,000 passionate locals is an amazing cultural experience.
Address: 11400 Montevideo, Montevideo Department
Website: estadiocentenario.com.uy