Berry Islands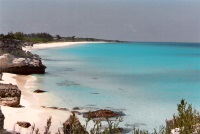 Great Harbour Cay, the Berry Islands © Patrickneil
The Berry Islands are among the least busy in the Bahamas, and the perfect destination for those looking for the ultimate escape. In part because of the difficulty involved in getting to the islands and their lack of infrastructure, the resorts in this archipelago are extremely exclusive, catering mostly to wealthy travellers, big game fishermen, and yachters. The largest island is the Great Harbour Cay, home to a multimillion dollar resort which once hosted the likes of Cary Grant and Brigitte Bardot.
The beaches in the Berry Islands are known as the best shell-collecting spots in the Bahamas, while the game fishing is some of the best in the world, offering billfish, tuna, grouper, tiger fish, yellow snapper, wahoo, and king mackerel, to name a few.
Every May the islands, nicknamed the 'world's fishbowl', play host to one of the world's top game fishing tournaments. The islands are largely privately owned, and wealthy owners use the islands as occasional holiday homes. This has resulted in the Berry Islands having more resident millionaires per unit area than any other place in the world.