Mayaguana Island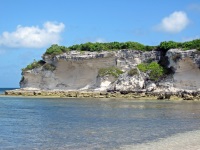 Mayaguana Island, Bahamas © James St John
As one of the most isolated islands in the Bahamas, Mayaguana is also among the least developed (relying on a weekly mail boat for outside communication) and least visited by tourists. With modern amenities few and far between, the island appeals to adventure travellers looking to experience the pristine wildlife of the area, including iguanas and bright pink flocks of flamingos.
Scuba diving in Mayaguana is world-class, especially in Abraham's Bay, and bonefishing is another popular activity. Some go to Mayaguana for duck hunting season, while others may visit for the challenging mountain biking routes on Mayaguana.
The Bahamanian government has recently entered into an agreement with the American government to turn Mayaguana into a free trade zone, developing 14 percent of the island - almost all of its coastal areas - into resorts and tourist destinations, while trying to maintain the island's status as an eco-tourism drawcard. However, none of the development has begun and the island remains as authentically isolated as ever.
As a result, it's important to be prepared before you visit Mayaguana as there are no ATMs or banks, and credit cards are not widely accepted. Accommodation and dining options are also limited and often quite basic.