Lost Paradise of Dilmun Water Park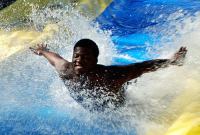 On a swelteringly hot day, the perfect activity for both children and adults in Bahrain is a trip to the Lost Paradise of Dilmun. The biggest waterpark in the Middle East, The Lost Paradise of Dilmun has a number of water rides and attractions catering for all ages, ranging from lazy rivers to high-speed waterslides, man-made waves to the new Bumping Battle Boats.
The park was designed to resemble Dilmun, an ancient kingdom in Bahrain that was said to contain the Garden of Eden. Guests can also relax by the pool in private cabanas. The park also has restaurants and souvenir shops. Though expensive by local standards and far from Manama (a 45-minute drive from downtown), the Lost Paradise of Dilmun is a great family excursion in Bahrain. Visitors should note that the park is only open during the summer. Children under 12 must be accompanied by an adult, and 'Ladies Nights' are held each Thursday evening.
Address: Gulf of Bahrain Avenue
Website: www.lpodwaterpark.com
Telephone: +973 1783 8666
Opening times: Opening times vary according to season, generally 10am-6pm. Check the website for specific dates.
Admission: BD15; BD5 for for guests under 3.9 feet (1.2m) tall