Melbourne Cricket Ground (MCG)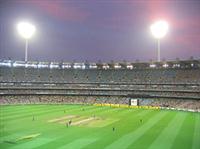 Melbourne Cricket Ground in 1864 © bram_souffreau
The Melbourne Cricket Ground (MCG) is one of the most impressive stadia in the world, and is well worth a visit even for non-sporting types. Originally built in 1853 for the Melbourne Cricket Club (who are still based at the MCG), the stadium has undergone major redevelopments in its history and now stands as one of the most beautifully-finished, spectator-friendly grounds on earth. The MCG also houses the National Sports Museum, comprising the Olympic Museum, the Australian Sports Hall of Fame, the Australian Cricket Hall of Fame, and the Melbourne Cricket Club Museum, all of which contain interesting sporting memorabilia. The MCG is used for cricket in the summer (try catch a Boxing Day test match), Aussie Rules football in the winter, and for events like rock concerts and a host of other cultural events year-round.
Address: Yarra Park, Melbourne
Website: www.mcg.org.au
Telephone: (03) 9657 8888
Opening times: Guided tours run daily, between 10am and 3pm. Check website for event information.
Admission: Guided tour: A$23 (adults), A$12 (children 5-15). Concessions and combined tickets for the museum and tours are available.