Barbados Garrison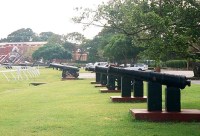 Garrison Historic Area © Caribdigita
The British Government established permanent land forces in the Windward and Leeward Islands in the 18th-century, taking Barbados as its headquarters. It built the Barbados Garrison a few years later, making the fort a significant legacy of that era.
Today, this elegant Georgian building is the Garrison Committee's headquarters. The group unearths the numerous old cannons scattered around the island's beaches, cellars and gardens, or buried beneath its fortifications. At present count, history lovers can view around 400 pieces.
Visitors will find the most important pieces in front of the Main Guard House, where they present irresistible photo opportunities. The Garrison complex also features the Barbados Museum. Housed in the old military detention barracks, its collections chronicle the arts, crafts and natural history of Barbados.
Otherwise, the Garrison Historic Area is home to a racetrack that hosts the Barbados Derby, and other prestigious events on the Barbados horseracing calendar.
Address: Near Hastings in the Christ Church parish.
Website: www.barbados.org/garrison.htm