Amboro National Park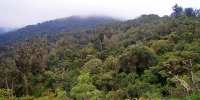 Amboro National Park is a nature reserve in central Bolivia that is home to more than 800 species of birds, and many endangered animals such as the puma, jaguar and spectacled bear. The diverse terrain offers seemingly never-ending vistas and spectacular scenery filled with rivers, waterfalls, forests, canyons and mountains. Amboro covers several ecoregions, offering a wonderful range of Bolivian wilderness for travellers. Visitors can pass the time birdwatching at La Chonta outlook, sunning themselves on the beaches of the Surutu River, or hiking the Yunga Mountains.
This beautiful national park is about 93 miles (150km) northwest of the city of Santa Cruz de la Sierra, making it a popular excursion out of the city for tourists. A number of tour operators offer outings to Amboro and a range of activities in the park.