Flanders Battlefield Tours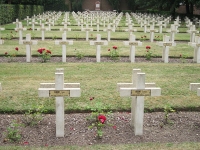 French military WW1 graves, Belgium © Zeisterre
During World War I, the medieval town of Ypres in the Flanders region of Belgium was the epicentre of fighting on the Western Front, with the Allied army suffering its heaviest losses in history.
Flanders Battlefield Tours, run by an informed, sensitive, and knowledgeable group of Great War scholars, ensure that the memory of that lost generation is preserved and respected. The tour has been roundly celebrated for the vividness of the battle accounts, much of the information supplemented by personal artefacts, such as old maps, photographs, diary extracts and poems.
Visitors are sure to be awed, spending time in areas where on average every square metre of earth witnessed the death of 35 young men. A solemn, moving, and important experience, Flanders Battlefield Tours have been described by travellers as the best of their kind in Europe.
Address: Slachthuisstraat 58, Ypres
Website: www.ypres-fbt.com
Opening times: Times vary. Advance reservations highly recommended. Check website for details.
Admission: €30 (standard tour, includes museum admission).