Hartley's Undersea Walk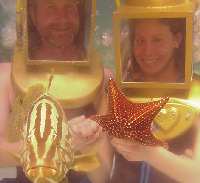 For nearly 60 years, the Hartley family has been providing Bermuda's best-loved tourist attraction, courtesy of an ingenious diving helmet invented by current owner Greg's grandfather, Bronson Hartley, in the 1930s. The Hartley Diving Helmet allows anyone - even those who can't swim - a chance to spend some time on the sea floor, with ten feet of turquoise water above them, and a perfect view of tropical parrotfish and beautiful white angelfish, browsing among the golden heads of coral all around.
The Helmet, which has a seriously Captain Nemo aesthetic about it, is suitable for adventurers of all ages, sizes and abilities - and the informative, charismatic Greg does everything in his power to ensure that your time on his boat is unforgettable. Although there are many imitators offering undersea walks in Bermuda, Hartley's is the original - and remains the favourite among travellers to the region.
Website: www.hartleybermuda.com