Magdalena Island Penguin Reserve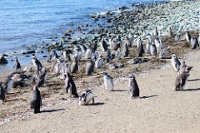 Magdalena Island Penguin Reserve © Rachel Hobday
The Magdalena Island Penguin Reserve is a paradise for birdwatchers, or for anybody who is fond of penguins. Magdalena Island is located 21.7 miles (35km) south of Punta Arenas. The reserve is a natural bird sanctuary, and is home to more than 100,000 birds, including about 95 percent of the world's population of Magellanic Penguins as well as cormorants and seagulls.
Because it is a sanctuary, the only facilities on Magdalena Island are for scientific research and not tourism. Guided tours are available to see the penguins in their natural habitat, and the lighthouse at the Environmental Interpretation Centre provides stunning panoramic views of the region. There are ferries available from Puntas Arenas, which take approximately two hours each way and provide snacks and coffee. These ferry rides are in themselves thrilling in that to reach Magdalena Island the boat crosses the famous Straits of Magellan, traversing the same waters as Sir Francis Drake and Charles Darwin.
Generally, visitors are allowed about an hour on the island to observe the penguins in their natural habitat. The birds are naturally curious and very amusing to watch. They return every year between October and March to lay their eggs and raise their young - if you are lucky you may well see chicks.