Forest of Steles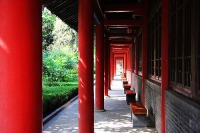 Stele Forest Museum © Fan Yang
Though there are many collections of steles (stone tablets) in China, only the one in Xi'an is large enough to be called a forest. There are more than 3,000 ancient steles in this library, dating back to the Tang Dynasty (618-907). The museum itself is nearly as old, having been established in 1087. The steles are divided into seven exhibition halls, and display classic examples of traditional Chinese calligraphy, painting and historical records. It is a scholarly sort of museum, and perhaps not as thrilling as some other sites, but travellers at all interested in history, writing, calligraphy, poetry, or philosophy will be enthralled. It is recommended that they hire one of the library's excellent English guides, because, without some assistance, a lot of the interesting history and the cultural relevance of the inscriptions will be inaccessible. Apart from its impressive collections, the museum building has lovely grounds, with fountains and pagodas, making it a great place to relax and do some reading or writing after a long day of sightseeing. It is also one of the less crowded tourist attractions. Ink rubbings of some of the most famous tablets are for sale in the gift shop.
Address: Shuyuanmen Street
Website: www.beilin-museum.com/
Telephone: (0)28 8721 0764
Transport: Take tourism bus 6 to Wang Chen Men Station.
Opening times: Summer 8am-6:45pm, Winter 8am-6pm.
Admission: CNY75 (March to November), CNY50 (December to February).