Elephant Trunk Hill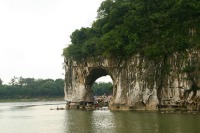 Elephant Trunk Hill © Bernt Rostad
Elephant Trunk Hill is one of the iconic attractions of Guilin. This hill, on the banks of the Li River, has a large natural arch cut into it that is said to resemble an elephant drinking water. This natural limestone monument rises over 180 feet (55m) above the water. The opening of the arch is called Water Moon Cave because the reflection of the moon at night appears as though it is both in and out of the water. Inside this cave there are more than 50 inscriptions dating back to the Tang Dynasty (618-907). Visitors can explore the hill and the cave by hiring one of the traditional bamboo rafts that paddle around the base. This makes for a lovely, peaceful excursion and gives the opportunity to take some truly magnificent photos. At the top of the hill is a two-story pagoda built during the Ming Dynasty (1368-1644), meant to resemble a vase on the elephant's back when viewed from afar. The hill is part of a beautiful park with lovely, verdant hills, winding paths and a number of sculptures, many of which are elephant-themed. The park gives visitors impressive views of the Guilin cityscape. Dusk is possibly the best time to visit, as this is when the scenery is at its most dramatic.
Telephone: (0)773 289 8556
Transport: Take sightseeing bus 1 to Xiangshan Park station, then catch either bus 2, 16, 23, 33, 57, or 58.
Opening times: 7am-9:30pm
Admission: CNY75