Jiuxiang Scenic Area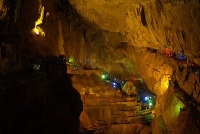 Jiuxiang Scenic Area © Deadkid dk
The Jiuxiang Scenic Area near Kunming is only 7.7 square miles (20km sq) but packs a big punch in terms of important sights with five popular tourist attractions: Diehong Bridge, Alu Long, Dasha Dam, Mingyue Lake, and Sanjiao Cave. Diehong Bridge, Dasha Dam and Sanjiao Cave all have picturesque 'stone forests' with China's distinctive karst limestone formations, while Diehong Bridge also has twin waterfalls with a large natural stone dam cluster, and Dasha Dam has lush green forest. Jiuxiang is the home of the aboriginal Yi people, and Alu Long is home to the excavated Yi cliff paintings of the Qin (221BC-206BC) and Han (206BC-220AD) dynasties. Yi customs and culture are still evident today in the many legends and folk stories. These stories come to life in the magical subterranean world of the Jiuxiang area, which includes more than a hundred caves, featuring natural underground waterfalls, bridges, valleys and rivers. Jiuxiang Scenic Area is located 55.9 miles (90km) from Kunming, and makes an excellent day trip. Visitors should bring warm clothes, as the interior of the caves can be quite cool. It is also recommended that travellers bring water and comfortable shoes, because all the climbing and walking (and paddling if seeing the caves by boat) can be tiring.
Address: Yiliang County
Telephone: (0)87 1751 1998
Transport: The area is easily accessed by taxi.
Opening times: 8am-6pm
Admission: 90 CNY; 30 CNY for cableway