Chengdu Panda Breeding and Research Center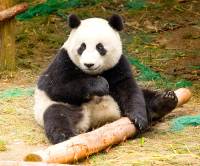 Chengdu Panda Breeding and Research Center © Chi King
The Chengdu Panda Breeding and Research Centre is a not to be missed attraction for animal lovers, or anybody interested in wildlife conservation. The largest centre of its kind, Chengdu is part zoo, part lab, and part habitat. It is focused on increasing the population of giant pandas in captivity so that more may be released into the wild; with this in mind, the Chengdu centre is the best place on earth to see ridiculously cute panda cubs. Research focuses on the advancement of wildlife conservation and, as it is impossible not to be enchanted by these seriously endangered creatures, visitors will leave the centre with a new passion. The park is also a home to many red pandas and other endangered Chinese animals, like the South China Tiger and golden monkey, though the famous giant pandas are the main attraction. The Giant Panda Museum has interactive exhibits designed to teach visitors about the fascinating creatures, and the work of the centre. It takes about two hours to walk the grounds, or visitors can ride in a tour cart. It is best to go for feeding time (9am-10am) which is when the animals are most active. Also, if travellers get there nice and early they are more likely to get the chance to hold a baby panda. People have to pay extra to cuddle a cub but, although it is expensive, it is a very special experience and the donation goes towards a worthy cause.
Address: Xiongmao Da Dao
Website: www.panda.org.cn
Telephone: (0)28 8351 0033
Transport: From the Zoo Bus Stop, catch the 87 or 198 bus to the Panda Base Bus Stop. The journey will take approximately 90 minutes.
Opening times: Daily 8am-6pm.
Admission: CNY58