Petrified Forest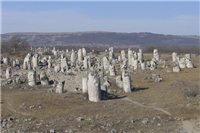 Pomiti Kamani, the Petrified Forest © Juha-Matti Herrala
Just 13 miles (about 20km) west of Varna, Pobiti Kamani (the Petrified Forest) makes for an interesting and worthwhile daytrip. The origin of the stone columns - which measure up to 23 feet (seven metres) in height, and 10 feet (three metres) in girth - remains a mystery, with geologists holding differing opinions about how they were formed.
Regardless of their origin, however, Pobiti Kamani's columns are unique, and make for a fascinating, photo-filled excursion from Varna. Needless to say, visitors and locals come up with their own, more mystical explanations for the phenomenon, and many feel that it is a magical place.
Occupying an area of 27 square miles (70 sq km), the Petrified Forest is a wonderful place to spend the day, exploring the strange terrain, and enjoying a picnic in the sun. It is best to go in April or early May, when the weather is idyllic, but even if it is not sunny the landscape will intrigue visitors. You have complete freedom to wander about the area at your leisure and it is a great excursion for the whole family.
Address: Varna Province, on the road between Varna and Sofia.