Smuggler's Cove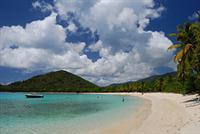 Smuggler's Cove, Tortola © superde1uxe
A remote beach, accessed by a rutted dirt road, Smuggler's Cove is the perfect place for those who prefer their beaches uncrowded and serene. The setting of the 1990 remake of The Old Man and the Sea, Smuggler's Cove is a classically beautiful Caribbean beach, with a crescent-shaped shoreline, pristine white sand, towering palm trees, and clear, turquoise water. Due to its remote location, at the very western tip of Tortola Island, there's not an awful lot to actually do at Smuggler's Cove - there are no dive-shops, or bars or restaurants for miles - but it remains an ideal spot for swimming and sunbathing, and the snorkeling is excellent.
Sometimes there will be an informal, rustic beach bar set up at Smuggler's Cove by one of the locals but you are just as likely to have this entire pristine cove to yourself. So, it is best to take along anything you might want or need for a day of basking and exploring. The sea is slightly colder here sometimes, as there are cool currents reaching around the tip of Tortola, but the slightly colder water can be refreshing and the currents make snorkeling exciting (they aren't strong enough to be dangerous). It is well worth undertaking the drive down to this glorious beach.
Address: Western tip of Tortola Island.