Callwood Distillery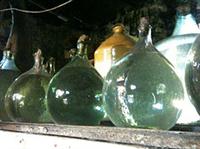 Callwood distillery, Tortola © Roland O'Daniel
A must-see attraction, the Callwood Distillery in Cane Garden Bay manufactures delicious rum the old-fashioned way. The distillery - which has belonged to the Callwood family since the mid-1800s - doesn't appear to have changed much since then: traditional methods are still used, as well as antique equipment. The whole place is delightfully dilapidated; don't go expecting a polished, stainless steel factory. Callwood is old-fashioned, grimy and laid-back and the rum produced there seems to be all the better for it.
Current owner Michael Callwood is always proud to inform visitors that Arundel Cane Rum, the distillery's brand, is made from pure sugar cane juice, with no preservatives added (what he calls a 'pre-emptive strike against hangovers') and visitors can actually view the ancient oak barrels in which the rum is aged. One part distillery tour, one part history tour (the stills really do appear as though they belong to another age), the Callwood Distillery is one of the British Virgin Isles' most celebrated tourist attractions - and a great place to pick up a few souvenirs from your time in the Caribbean. Sometimes someone will chat to you and show you around for free but at other times you will have to pay a small fee for a tour. $1 will buy you four shots - one of each kind of rum produced at the distillery.
Address: Cane Garden Bay.