Football Museum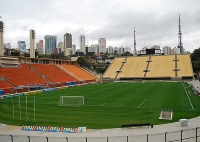 Football Museum © Beraldo Leal
Even for non-football fans, Sao Paulo's Museu do Futebol (Football Museum) is a must-see tourist attraction. The Brazilian team has been unquestionably the most delightful and successful national team in football's history, and the sport is supported with religious fervour throughout the country. The beauty of Sao Paulo's Football Museum, housed within the Pacaembu Stadium, itself an icon of the city, is that is takes a modern, interactive approach toward its exhibitions, with holographic displays, touch-screen information panels, and various other multimedia installations.
Highlights of the museum include the 'History of the World Cup' section, and a display introducing Brazil's 25 greatest-ever players (the Anjos Barrocos, or 'Baroque Angels'). An appreciation of what football means to the country is vital to getting to grips with Brazilian culture, and Sao Paulo's Football Museum is a wonderful introduction in this respect. Be sure to budget at least two or three hours for the museum, as there's a lot to see.
Address: Estádio do Pacaembu, Praça Charles Miller 1, São Paulo
E-mail: contato@museudofutebol.org.br
Website: www.museudofutebol.org.br/pagina/horarios-e-ingressos
Telephone: +55 11 3664 3848
Opening times: Tuesday to Sunday 9am-6pm, closed Mondays.
Admission: $12 adults, $6 children, Tuesdays are free.