Franz Kafka Museum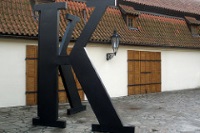 Franz Kafka Museum © Nico Paix
One of Prague's most famous citizens, renowned author Franz Kafka, was born in the city in 1883 in a house on the Old Town Square, next to the Church of St Nicholas. That house is now a museum devoted to the author, containing original manuscripts, photos and diaries, and delves in depth into Prague's influence on the man and his most famous works, including "The Metamorphosis" and "The Trial". Kafka referred to Prague as his 'dear little mother with claws' and the Prague that is introduced through him is a dark, magical place, mysterious, Gothic and complex. There are 3D installations and audio-visual exhibitions, as well as detailed biographical information on Kafka himself. Possibly the most interesting thing for literati is the extensive personal correspondence on display which allows great insight into Kafka and his life.
This is a wonderful, interesting museum but it is not generally appealing to children as it mostly involves a lot of reading and the atmosphere, designed to reflect the mood of Kafka's fiction, is intellectual, dark and somewhat existential. If you are travelling with kids in Prague find a diversion for them while you explore this attraction.
Address: Hergetova Cihelna, Malá Strana
Website: www.kafkamuseum.cz
Opening times: Daily 10am to 6pm.
Admission: CZK 200 (adults). Concessions available.