Franz Kafka Museum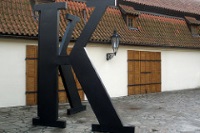 Franz Kafka Museum © Nico Paix
Born in Prague in 1883, renowned author, Franz Kafka, would later refer to the city as his 'dear little mother with claws'. This museum delves into why, covering Prague's influence on the man and his most famous works, including The Metamorphosis and The Trial. Through facsimiles of manuscripts, photographs, newspaper obits, and audio-visual exhibitions, the museum looks to immerse visitors in the dark, magical and mysterious place that is the author's Prague. Booklovers may enjoy the extensive personal correspondence on display, which allows great insight into Kafka and his life. All things considered, the museum is worth a visit, though not for children. That is, the experience involves lots of reading and the atmosphere reflects the mood of Kafka's fiction, which is intellectual, dark and somewhat existential.
Address: Hergetova Cihelna, Mala Strana
Website: www.kafkamuseum.cz
Opening times: Daily 10am to 6pm.
Admission: CZK 200 (adults). Concessions available.