Golden Temple of Amritsar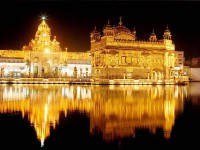 Golden Temple of Amritsar © Asajaysharma13
Considered one of the most beautiful temples in the world - and the veritable heart of the Sikh religion - it's no wonder that tourists come from all over the globe to see the Golden Temple of Amritsar. Situated in the middle of a sacred lake fed by an underground spring, the golden structure is a unique blend of Hindu and Muslim architectural styles. Within the temple is the Adi Grantha, the sacred scripture of the Sikhs, displayed on a jewel-studded platform.
Visitors to the Golden Temple can enjoy the serene and spiritual atmosphere, with the sound of Sikh hymns accompanied by flutes, drums and stringed instruments. Next to the lake are the enormous pilgrims' dormitories; and at the gate is the information desk, where helpful and friendly staff will answer your questions and provide free pamphlets on the temple and Sikh religion.
The best time to visit the Golden Temple of Amritsar is actually at night, when the Palki Sahib ceremony takes place. Dozens of devotees act as a human conveyor belt to carry the Granth Sahib (a shrine containing the Adi Grantha) from the main shrine to the sanctum, where it is kept until the opening ceremony the following morning. Visitors may participate in the ceremony, taking their turn to shoulder the weight of the enormous shrine.
Visitors to the Golden Temple should be respectful of the Sikh culture. Smoking and alcohol is forbidden throughout the complex, and visitors must remove their shoes. Heads must be covered at all times - for those who forget, vendors will sell bandanas near the temple. Alternatively, it is possible to borrow a head covering from the pile kept at the entrance.
Address: Golden Temple Rd, Atta Mandi, Katra Ahluwalia, Amritsar
Website: www.goldentempleamritsar.org/