Museé Vivant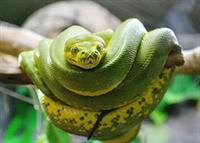 Located within Bujumbura, in a reconstructed traditional Burundian village, the Museé Vivant is an interesting place to visit, although it's not for the faint-hearted. The village section of the Museé Vivant is a great place to walk around, with a built-to-scale royal habitation and lovely thatched-roof cabins selling local arts and crafts. The zoo section of the Museé Vivant is, however, a little more exotic than those accustomed to western zoos might be prepared for.
The Museé Vivant is home to a leopard, and a celebrated collection of crocodiles, snakes, and other reptiles (not all housed in fantastic conditions) - and visitors can buy live guinea pigs to feed to the animals. It might not be everyone's cup of tea, but those looking for a more hands-on and unique zoo experience, you are sure not to be disappointed.
Address: Avenue du 13 Octobre, Bujumbura, Burundi.