Moraine Lake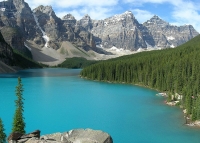 Moraine Lake © Tobias Alt
Located within Banff National Park and close to the popular resort towns of Lake Louise and Banff, Moraine is a spectacular glacially-fed lake. Its waters are a vivid turquoise colour due to rock flour, which are tiny particles of suspended sediment. On a clear day, the lake reflects the surrounding mountains in its mirror-smooth surface.
There's plenty to see and do in the snow-capped and pine-strewn Valley of the Ten Peaks, including an assortment of scenic hiking trails, kayaking facilities at the Lodge, and an onsite café serving wonderful food and refreshments.
Although not impossible, getting to Moraine can be difficult if you are without a car. Take a bus to Banff station, and from there you can either walk the nine miles (14km) to the lake; rent a bicycle; take a taxi; or make use of the Park-run Vista shuttle service, which departs every 30 minutes from the Lake Louise campsite.
Address: 9 miles (about 14km) from Lake Louise, located within Banff National Park