El Malécon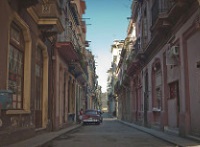 El Malecon © Matias Garabedian
A five-mile (8km) esplanade, roadway and seawall, running between the harbour in Old Havana and the historically Russian area of Vedado, a stroll along El Malécon is the perfect way to start any Havana adventure.
The two-hour walk, described by many as a cross-section of Cuba's history, begins in Habana Vieja, where the buildings have had their famous pastel colours faded by the sun and the salty sea-wind, and goes past various monuments to significant figures in Cuba's struggle history (including Máximo Gomez and Calixto García), before ending up in the area of Verdado, a funky downtown district with great sights and vibrant nightlife.
Walking El Malecon one bears witness to the strange disparity in Cuba between the wealthy tourist hotels and the rundown local joints. Construction of the walkway began in 1901 and its main purpose was to protect the city from the sea but today it is a very popular social haunt.
It is very different to do the walk during the day and at night; perhaps the best way is to begin in the afternoon sun so that you can see the colours of the city, and finish in the evening when the lights come on.
Address: Between the harbour and Vedado, Havana