Bay of Pigs Museum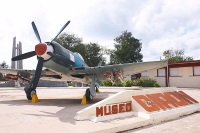 Bay of Pigs Museum © Panther
In April 1961, the United States (under the auspices of the CIA) launched an attack on Fidel Castro's government, attempting to overthrow it by securing the beach-head at Playa Gíron. The 'Bay of Pigs' invasion, as it has come to be known, was a humiliating failure for the US, only serving to strengthen the Cuban people's support of Castro.
Today, the fascinating Bay of Pigs Museum (Muséo Playa Gíron) stands as a simple record of the Cuban force's victory. Visitors can view maps and displays detailing the course of events as they transpired, as well as actual planes flown by the Cuban army during the siege, fragments of shot-down enemy planes, tanks, mortars and machine guns used in the battle, plus much more. There is also a touching exhibition of photographs and biographies of the 156 Cuban soldiers that were killed during the invasion.
Anyone with even a passing interest in modern history - or how US foreign policy has shaped the world in which we live - will find the Bay of Pigs Museum utterly enthralling. Budget at least two hours to take it all in.
Address: Playa Gíron