Helsinki Zoo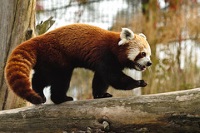 Tallinn Zoo © Lassi Kurkijärvi
Situated on the popular island of Korkeasaari, the Helsinki Zoo is one of the best family attractions in Helsinki and can be reached by bus, car, or ferry during the summer. Home to about 150 different animal species and almost seven times that many varieties of plant life, the zoo makes a great stop for anyone travelling with children in Helsinki. The place is arranged in different habitats so that visitors move from one world to another through tundra, rainforest, mountains, wetlands, deserts, and tropics. Each season also presents visitors with different experiences, ranging from autumn when the big cats get more active to greeting the newborns in spring. Visitors can see Finnish wildlife like musk ox, reindeer, and snowy owls, or more exotic flora and fauna from all over the world, including rare animals like the majestic snow leopard and the red panda. As part of its mission to preserve and protect biodiversity the Helsinki zoo breeds and raises endangered animals. The zoo, founded 120 years ago, also offers rest areas, restaurants, and souvenir shops and you can bring your own picnic and enjoy it sitting on the cliff tops with lovely views.
Address: Mustikkamaanpolku 12, Korkeasaari
Website: www.korkeasaari.fi
Telephone: (09) 310 37900
Transport: By bus, car or ferry (only in summer).
Opening times: Daily 10am-8pm in summer and 10pm to 4pm in winter.
Admission: EUR 12 for adults, concessions available