St Nicholas Russian Orthodox Cathedral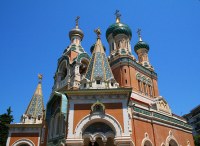 St Nicholas Russian Orthodox Cathedral © Jim McDougal
Nice and the French Riviera were fashionable holiday resorts for Russian nobility in the late 19th and early 20th centuries, leading to a close relationship between the regions that culminated in the rose-pink Russian Orthodox Cathedral, one of the most beautiful buildings in Nice. Topped with the onion-shaped domes typical of Russian cathedrals, the church was built by Tsar Nicholas II in 1912 and is the largest of its kind outside of Russia. The interior of the cathedral is also magnificent; it is in the shape of a Greek cross and boasts some wonderful frescos, woodwork and art, as well as notable goldsmith's work. The odd image of the Russian spires set against the background of palm trees on the Cote d'Azur is one of the most interesting sights in Nice. Strolling past the cathedral, and getting some photos, is a must and it is well worth going inside as well.
Address: Avenue Nicolas II
Website: www.cathedrale-russe-nice.fr
Transport: Northwest of the central train station.