Checkpoint Charlie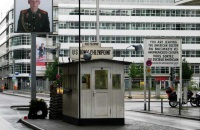 Checkpoint Charlie © Piro
The infamous border crossing point in the wall dividing West and East Berlin has now become a shrine to the wall's memory with the addition of a museum, Haus am Checkpoint Charlie. For nearly three decades, between 1961 and 1990, Checkpoint Charlie in the Friedrichstrasse was the only crossing point between East and West Berlin. While the original metal shed is now on display at the Allied Museum, the soldier's post can be visited, and tourists can be photographed under the border sign. The museum's permanent exhibition dates back to the building of the Berlin Wall, and charts the lifespan of the wall, including its erection, its demolition and an intriguing collection of objects used to escape over, under, and through it, and the stories of those escapees who risked their lives to win their freedom. The museum is also generally concerned with human rights. The Checkpoint Charlie Museum houses temporary exhibits, and hosts lectures and film screenings; check the website for schedules.
Address: Friedrichstraße 43-45
Website: www.mauermuseum.de
Telephone: (030) 253 725-0
Transport: U-Bahn - U6 (Kochstraße) or U2 (Stadtmitte); Bus - M29 (Kochstraße) or M48 (Stadtmitte)
Opening times: Daily 9am to 10pm.
Admission: €12.50 (adults), €9.50 (students), €6.50 (under 18s), free for children under 6. Other concessions available.