Albi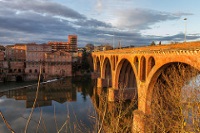 Albi © Caroline Lena Becker
While Toulouse is known as the 'pink city' for its facebrick buildings, Albi, a UNESCO heritage site and historical city, is often called the 'red city' due to the spectacular crimson hue of the buildings at sunset. With a skyline dominated by the magnificent Cathédrale Ste-Cécile, there is plenty to see in the medieval town centre. Just wandering around the picturesque and ancient streets of the old city is the main attraction.
Albi is also known as the birthplace of famous French painter Toulouse-Lautrec, and there is a great museum containing more than 600 of his works, along with those of Degas, Matisse, and Roualt. There is also an interesting museum dedicated to explorer Jean-François de la Pérouse. The Cloitre de la Collegiale Saint Salvy is also a lovely, serene religious site to visit in Albi. And the Park Rochegude is a small but beautiful park, formerly the garden of an aristocrat, which boasts a wonderful collection of trees.
Situated on the lovely River Tarn, this historic city is a popular excursion from Toulouse. Albi is only an hour or so away from Toulouse by car, so easily reached on daytrips.
Address: 85 kilometres outside Toulouse
Website: www.southfrance.com/albi/index.html