The Fairy-Tale Road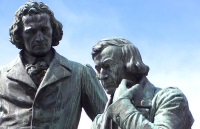 Grimm Brothers Monument © Dr Meierhofer
The Fairy-Tale Road follows a meandering 370-mile (595km) route that traces the path of famous storytellers the Brothers Grimm. Many people don't realise that the Brothers Grimm didn't simply invent their famous stories, but recorded and collected local legends and folk tales from their homeland near Frankfurt. Between charming villages and well-preserved medieval towns, Germany's Fairy-Tale Road wanders through lush forests and 'gingerbread' houses that inspired the worlds of well-loved characters like Sleeping Beauty, Little Red Riding Hood and Hansel and Gretel.
Starting in the town of Hanau, where Jakob and Wilhelm Grimm were born, visitors can explore attractions like the Brothers Grimm monument in the town square, the Puppet Museum at Williamsbad, the Marienkirche where Jakob was married, and the Phillippsruhe Palace, which hosts performances of the fairy-tales (though mostly in German).
The next town on the journey is Steinau, where the brothers spent their youth; and Marburg, a university town where they began to research local legends for their collection. Further on the town of Kassel is home to the Brothers Grimm Museum. Nearby Baunatal was the home of Dorothea Viehmann, who told the Brothers Grimm many stories, and visitors can have a beer in the Knallhüt brewery, which occupies the building she was born in.
From there the Fairy-Tale Road follows the Weser River to Hameln, the famous town of the Pied Piper. In nearby Bad Oeynhausen travellers will find the Fairy-Tale Museum. The road ends in the town of Bremen, home of both the mythical Little Nienburg Girl and the very real Rathaus, a vibrant marketplace filled with town musicians and the famous Ratskeller Restaurant.